Houston Web Design
Website Design from Web Specialists, Inc.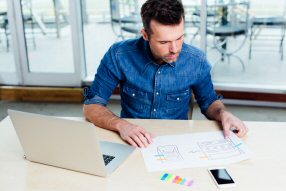 Web Specialists, Inc. is a Houston Web Design company that provides Responsive Web Design services that produce amazing websites, and have been in business since 1998, and are the clear choice when looking for a web design company in Houston. We design affordable custom web sites based on the needs of each individual client, in order to provide websites that are an exact fit for each client's business. Our Houston Web Design team is composed of top-notch web design professionals in Houston, each with at least 15 years web development experience, so trust that your project is in very cable hands when working with Web Specialists, Inc. on your website design project. We work with clients and projects of all sizes, and are happy to discuss your project regardless of how large or small it is.
Web Specialists, Inc. does ALL of its development work in-house in Houston which allows us to be able to communicate directly and more effectively with our clients, and also to have direct quality control over every website design project from start to finish. It may not seem like a big deal that we do all our web design work in-house, but beware that many of our competitors in Houston outsource some or all of their web development work to companies or individuals in places as far away as Pakistan, India or Russia, and the results from outsourcing web design services are typically very poor.
Web Site Development
Obviously when having a web site designed in Houston the appearance is of utmost importance, and our team of highly skilled web designers in Houston can deliver a web site to please even the hardest to please client. What really sets us apart is that when we build websites we see the big picture beyond just the appearance. Which the big picture includes other very important factors such as ease of navigation, load time, responsive for compatibility with different devices and screen sizes, mobile compatibility and cross browser compatibility.
Here at Web Specialists, Inc. we also provide all of the other services that will be needed for your web site design project, including Database Development, Custom Programming, and E-commerce, so that our development team can deliver a complete solution. Most web sites are not just visual, as they have some other features and functionality required, in order to deliver a complete user experience or online store.
In addition we offer additional services after the initial web design project that are just as important, like Internet Marketing to make sure people can find your web site, and website maintenance to provide updates in the future. The bottom line is that we are able to build long-term relationships with our clients, because we deliver first class web sites and also provide additional services that are needed after the initial web design project. So if you are looking for a professional web development company in Houston that can help your company with its web site needs today, tomorrow and in the future, Web Specialists, Inc. will be a great fit.