Database Development Houston
Database Programming from Web Specialists, Inc.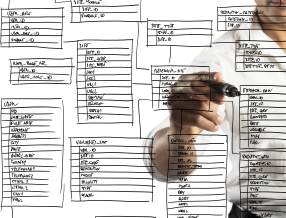 If you need a custom database application developed, Web Specialists, Inc. is the right company for your project, as we have been providing database development, programming and management services in Houston since 1998. We can help your business with the entire database project including design, development, custom programming, deployment, and even data entry. We offer database solutions to meet all sizes of business needs from just a few records to billions of records.
From its office in Houston Web Specialists, Inc. provides all database development and Custom Programming work, with no outsourcing to foreign companies or individuals. Please be aware that many of our competitors in Houston do outsource database development, mainly to India or other countries in Asia which usually results in substandard work being delivered.
Web Specialists, Inc. has extensive experience in database design and development, and can provide development solutions on most relational database platforms including MySQL, PostgreSQL, Microsoft SQL Server, Microsoft Access and Oracle. Our Houston team can integrate your existing relational database with a local or Internet application, or convert your data to a suitable database platform for a specific database application. We can also build a new database from raw data that is not currently in a database, as well as create custom database applications to suit a specific business needs or requirements.
Database Design Solutions
Web Specialists, Inc. can work with your company to design the relational database for your application, including identifying all data sources, data flow, relationships between sets of data, and all necessary calculations and special requirements. What this service does is to create a database roadmap, so that an exact scope of the project is defined, which allows us to have everything needed to move to the development phase for your database project.
Database Development and Programming
We can develop your database application based on a database design provided by Web Specialists, Inc. or one provided by a third party company. With the database development service we provide not only the development of the database itself, but also build applications and do Custom Programming to support all necessary calculations and functionality including reporting. Web Specialists, Inc. also offers Website Design services to give your database application a professional look and feel, which includes designing all of the screens for the application.
Database Management Solution
Once your relational database solution has been deployed, or if you have an existing database application, Web Specialist, Inc. can work with your business to manage it for you. Our database management service, provided through our office in Houston, will allow your company to rest assured that everything will run smoothly with your database application after being deployed. We manage your database application to make sure that it is running optimally with no performance issues or errors, and respond timely to any necessary problems. In addition the database management solution from Web Specialists, Inc. can make any changes or additions required moving forward, including changing or adding any new functionality, adding new reports, changes to calculations or any other required features or functionality.